Snacks
Morning Glory Macro Bread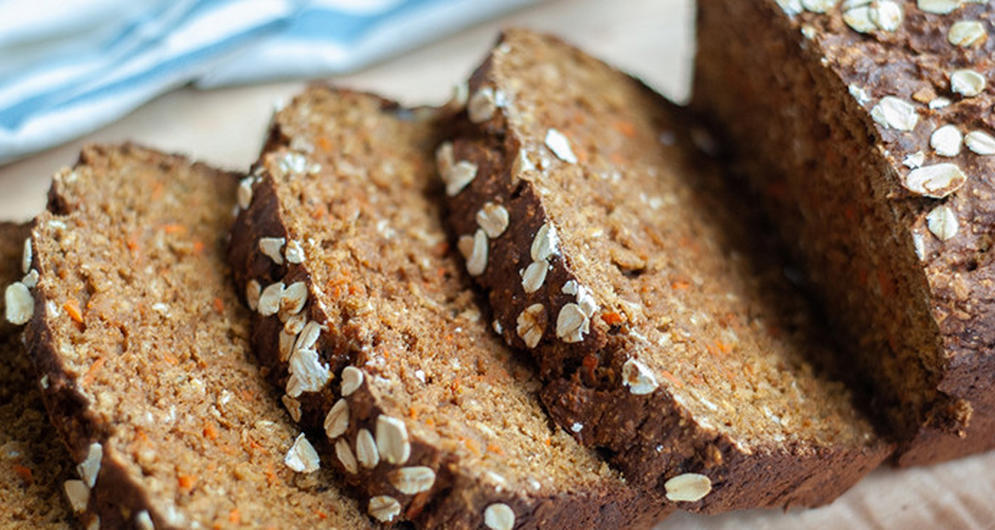 Directions
Preheat the oven to 180 degrees and prepare a loaf pan by spraying with nonstick cooking spray or lining with foil or parchment paper.
Mix the banana, eggs, honey, and milk together in a large bowl. Add the dry ingredients (protein powder, oats, flour, baking soda, baking powder, salt, and cinnamon) and stir well with a fork.
Fold in the grated carrots and apple.
Pour the batter into the prepared loaf pan. Sprinkle with the remaining 2 tablespoons of oats and press lightly into the surface of the batter with your fingers.
Bake for 35-40 minutes until golden brown and a skewer or knife just comes out clean. This loaf browns easily, so if it gets too dark while in the oven cover the loaf with foil for the remainder of the baking time.
Remove the loaf pan from the oven and place on a cooling rack for 15 minutes. Remove the loaf from the pan and cool to room temperature.
Slice into 10 slices. Serve plain, topped with butter, vegan butter, honey, or nut butter (not included in the nutrition information above). This bread is also delicious toasted!
Store in an airtight container for up to a week or in the freezer for up to 3 months.
NOTES:
Time saver tip: use your food processor to pulse the carrots and apple into small pieces instead of grating by hand.
It's not necessary to peel the apple or carrots before grating.