Desserts
Dessert Pizza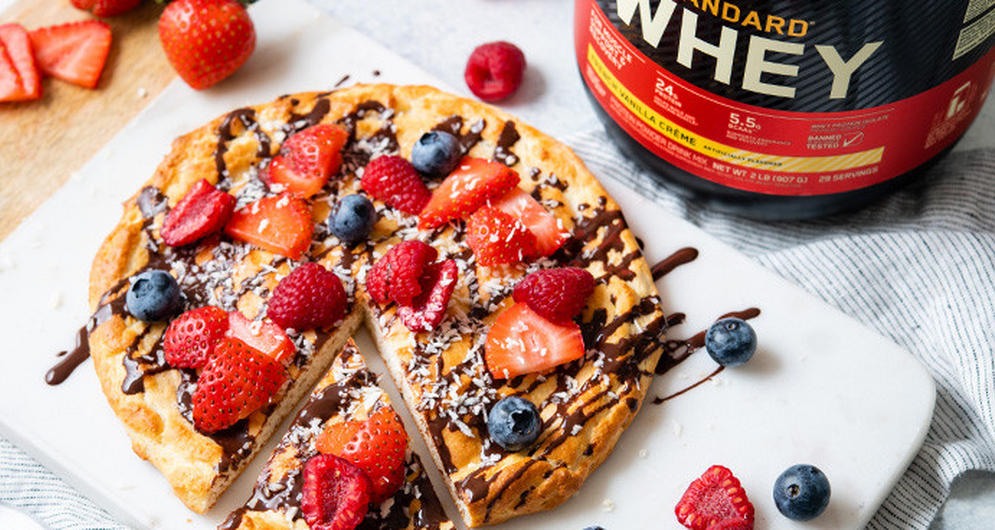 Directions
Preheat oven to 450F
Line a baking sheet with a silicone baking mat or sheet of parchment paper
In a medium-sized mixing bowl, sift together all dry ingredients (all-purpose flour through sea salt) and whisk to combine
Then add the wet ingredients (yogurt + egg white), stirring together just to combine until it forms a wet, sticky dough (will have the consistency of thick pancake batter)
Using a spatula, spread the batter out on your baking mat or parchment paper in a circular shape with the edges slightly thicker than the middle to form a crust. The final shape should be approx. 8" wide and ¼-inch thick in the middle with ½-inch thick edge.
Bake the crust for 8-10 minutes until golden brown.
While crust bakes, make your chocolate drizzle and prepare your toppings.
Remove crust from oven, allow to cool for 5 minutes before removing from baking sheet. Place on a plate, drizzle with chocolate sauce, top with berries & coconut, and enjoy!