Desserts
No-Bake Chocolate-Tahini Tart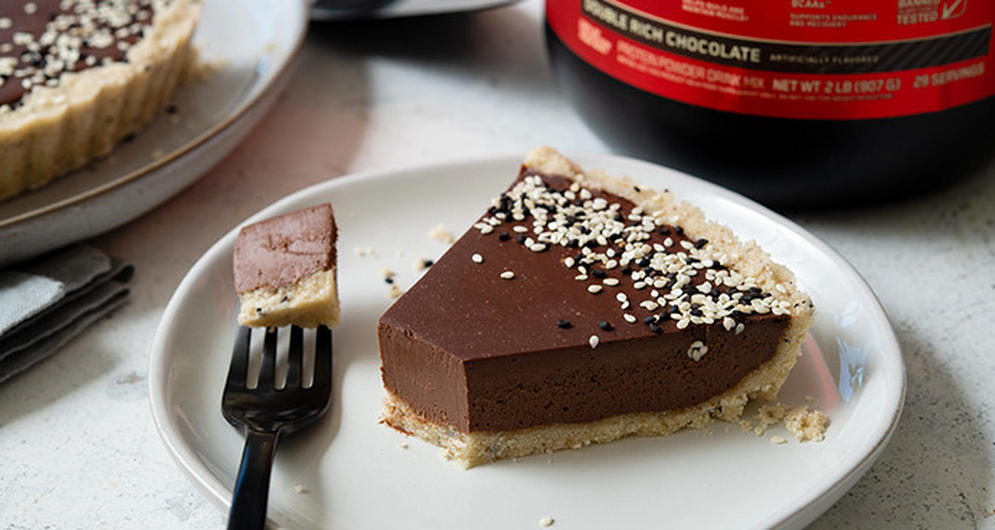 Directions
Prep Time: 20 Mins
Cooking time: 2-8 hours (chills in fridge to set)
For the crust, place all ingredients except for the coconut oil in the bowl of a large food processor and mix/pulse until a sand-like consistency is reached. Then, with the food processor running, slowly drizzle the melted coconut oil into the mixture until it just starts to come together. Pour the mixture into your 8-inch tart pan and using your fingers firmly press it into the bottom & sides forming your crust. Place in the refrigerator to cool while you make your custard filling.
To make the filling, place the chocolate chips, coconut cream & Gold Standard Whey in a saucepan over medium heat, slowly whisking until the chocolate is melted. Once melted & silky, remove from the heat and stir in the maple syrup, salt & tahini until well-combined.
Remove the crust from the refrigerator and pour in the filling. Return the entire tart to the refrigerator and chill to set for at least 2-3 hours, but preferably overnight.
When ready to serve, garnish tart with additional sesame seeds if desired, slice & enjoy!
Equipment needed:
8-inch Tart Pan
Food processor