Snacks
Chocolate Chip Banana Bread Muffins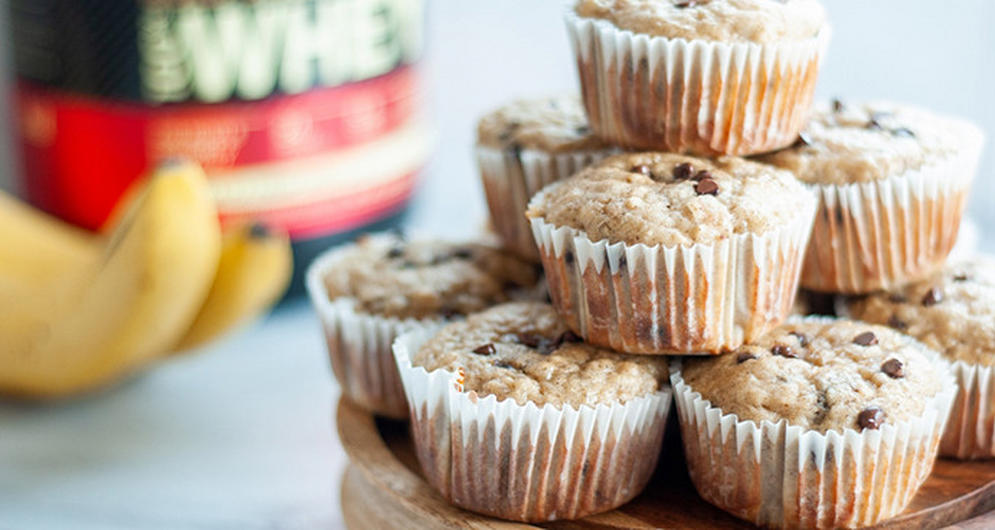 Directions
Preheat the oven to 350 degrees and prepare two 12-cup muffin pans by lining with muffin liners or spraying well with nonstick spray. You will need to prepare 18 cups. If using muffin liners, mist them lightly with nonstick spray after placing them in the pan to prevent the paper from sticking to the muffins.
In a medium bowl mix together the wet ingredients (mashed banana, yogurt, eggs, oil, and vanilla.)
Add the dry ingredients (flour, oats, protein powder, baking soda, baking powder, cinnamon, and salt) and stir well, mixing just until the ingredients are combined. Fold in the chocolate chips.
Fill each muffin cup about ¾ full with batter. You should have enough batter for 18 muffins.
Bake for 11-13 minutes or until a toothpick inserted comes out clean. They will not brown like traditional banana bread - be careful not to overbake otherwise the muffins will dry out.
Store in an airtight container for up to a week or in the freezer for up to 3 months.
NOTES
Feel free to substitute melted and cooled coconut oil, melted and cooled butter, grapeseed oil, or avocado oil for the canola oil (macros may vary slightly).
If you don't have 2 muffin pans (or don't have an oven large enough to bake both pans on the same oven rack at the same time), bake the muffins in separate batches. The second batch of muffins may be slightly more flat due to the extra lead time, but they will be equally as delicious!